Lighting
Lighting is crucial to any space and any event including your wedding but it is perhaps one of the most neglected elements of planning for the big day. Taking the time to consider lighting and adding some additional sparkle really is a good idea and one you'll be thankful for when you get your photos and video back and see what a difference it makes to the overall ambience and tone of the day and evening. 
Fairytale lighting in particular is having a moment in the spotlight and is a key wedding trend for 2022, which makes sense when you think of another key trend: back garden weddings. At Pure HQ we're seeing lots of dreamy, statement lighting options all of which help to create a magical, movie-worthy vibe, both indoors and outside. Choose from exposed bulbs, festoon and string light installations, vintage chandeliers and classic fairy lights.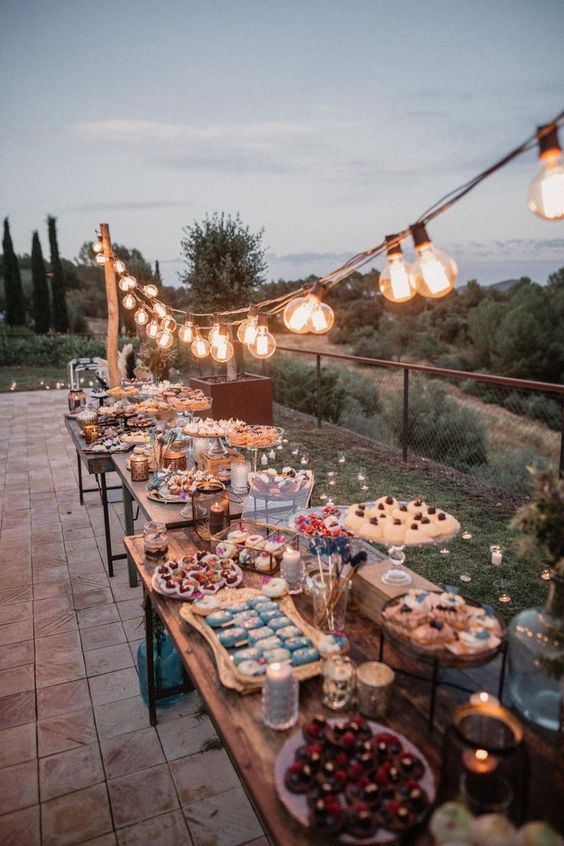 Image: @pablo_laguia 
Take a look on Pinterest and Instagram and you'll see some breath taking light installations that really are showstopping but if you don't have a massive budget it's hard to see how you can replicate. If you don't have the budget to engage with a professional perhaps your venue can help – talk to them and explain what you are aiming for. Even if they can't provide any actual lighting other than what it is already there they will probably help advise as to what is achievable and help where they can. The more people who are in the loop with your vision the better! 
String lighting is easily available, budget friendly and super impactful. Every space looks better with just a small twinkling of fairy lights but if you can afford to go big do so! When visiting your venue view the space with the string lights in mind and plan exactly where you want them placing so you can leave instructions with whoever is helping you install them. 
Image: @kategarciaweddings 
There are other types of budget friendly lights you can use to create a magical effect. 
We love this budget friendly Ikea hack using paper globe shades to create a romantic and stylish lighting effect. 
Image: The Wedding App 
Take a look at our wedding lighting Pinterest board for some inspo and take it from there, and remember the only golden rule when it comes to lighting at your wedding – as with everything when it comes to your wedding – is to do it how you want it!